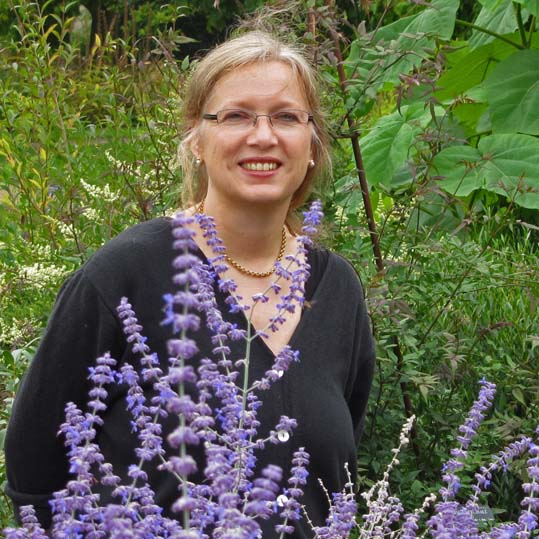 Eliane Zimmermann
I was born in Chile (1959), grew up in Brazil and made a degree in graphic-design in Germany. After a short training and work experience (six months) as an assistant nurse in a German hospital and a nursing home for the elderly I went through a training as a German Heilpraktiker (naturopath) in the late eighties and made my diploma in Aromatherapy at the Shirley Price College in 1990.
Before my two sons were born (1993 and 1999) I had an aromatherapy clinic in Wiesbaden (near Frankfurt), during their early childhood I founded aromatherapy school AiDA Aromatherapy International which I am still leading today. During the past almost two decades I enjoyed further education with Susanne Fischer-Rizzi, Martin Henglein, Dr. Dietrich Wabner, Patricia Davis, Dr. Daniel Pénoel, Rodolphe Balz and many more colleagues.
I wrote one of the renown reference books for aromatic courses (Aromatherapie für Pflege- und Heilberufe, 6th edition in September 2016). Four more books and this – the first German language blog about aromatherapy – established my reputation as one of the most experienced teachers in the German language countries. I also contributed to three books: Palliative Care, The Care of People with Dementia and Clinical Aromatic Care in Austria (a comprehensive chapter about recent clinical studies with essential oils).
I have been living in Southwest-Ireland since 2000. Here I tend aromatic plants in a huge garden on a former farm. The region is known for its subtropical flora so I have enough 'exotic material' to illustrate my courses in aromatic botany. Those take place in the wonderful surroundings of our premises right at the sea. 'Ballylickey House and Chalets' was the birth place and home of the first Irish female botanist Ellen Hutchins (1785-1815). The ideal place to learn about aromatic plants and about clinical aromatherapy. The house has ten lovely individually decorated rooms so students from far away can also enjoy their evenings (and early mornings) in the midst of this botanical paradise.
I translated some of my articles in this blog into English but the response wasn't worth the time consuming effort (there is enough English language information in the www). Being the first aromatic blog in German language I – I started in 2008 – I had been focussing on high quality texts which is appreciated by between around 1000 visits per day. A few articles – and of course many nice photographs mostly from my own plants – can be read via the links below (always scroll to the bottom of the German article, the translation is in blue letters).
about the marzipan-like smelling amber oil (Liquidamber styraciflua) click here
about the painkilling properties of rhododendron oil click here
about an successful treatment of the Charcot foot click here
about lavender and aloe vera for the treatment of minor household accidents click here
about the antihemorrhagic properties of Helichrysum italicum (immortelle oil) click here
about European legislation pressure for essential oils click here
about studies with saffron against menstrual disorders click here
about how essential oils can be useful for people with epilepsy click here
about how to use the essential oil of niaouli for the prevention of burns occurring with radiotherapy click here
about carrot seed oil for skin disorders click here
about rose hydrolate for the treatment of animals click here and against sore eyes here
about the antiinflammatory oils of the Virginian cedar (Juniperus virginiana) click here